New & Used Ram 1500 & 1500 Classic - Available Near New Westminster
Looking for a Ram 1500 & 1500 Classic near New Westminster?
At Richmond Chrysler, we are the area expert on all things Ram 1500. From its tires to its wheels, we know the information you need to make the right choice when it comes time to buy. We'll help you prune down or turn up the options to find the vehicle that works best for your life. So when you are ready to find your Ram 1500 we will be there to find the right one for you!
Why Choose the RAM 1500 or 1500 Classic?
The Ram 1500 is not just a truck - it is arguably the standard for every modern pick-up truck on the road right now. Drivers always feel capable, strong, and dependable when driving the Ram 1500. The 1500 classic is the affordable version of the 1500 but only comes in two engine options (See the common features below).
Available dual-zone temperature
7-inch available cluster displays to show the truck's performance.
Best-in-class cargo space
2,826kg worth of towing power for capability
Should I Buy a New or Used Ram 1500?
For 2021, The Ram introduces the Rebel TRX that comes with a supercharged V8 paired to an 8-speed automatic transmission delivering 702 horsepower - making the truck the ultimate off-roading beast. No changes to 1500 Classic, maintains the 2020 specs and technology features. So you may want to consider a 2020 or used model of Both 1500 and 1500 classic, which will likely cost less than the 2021 model.
Latest Promotions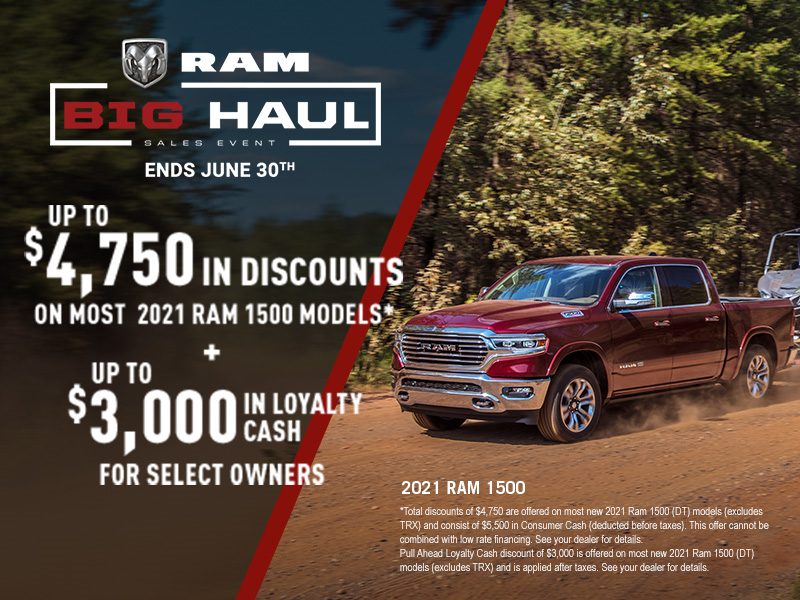 SHOP THE RAM 1500 & 1500 CLASSIC ONLINE