Dodge Grand Caravan for Sale near New Westminster
The Smart Choice
Do you want to know what the difference between driving Canada's best-selling minivan for over 30 years compared to its competition? The answer is easy when you stop by Richmond Chrysler located near New Westminster, B.C to take the Dodge Grand Caravan for a spin. The Dodge Grand Caravan has held its title of Canada's best-selling minivan for over 30 years for more reasons than one. The Grand Caravan has top of the line safety features and smart technologies which are a comfort when purchasing a family vehicle. This is parallel with its cool and sleek design which keeps the cabin quiet when on the road and clean with plenty of storage. Add all this to an award-winning engine, sporty exterior, and much more! At Richmond Chrysler we'd like to introduce you to this fan favorite option if you're on the look for a new minivan or family vehicle. Our friendly and informed sales associates can answer all questions and we can always set you up for a test drive. Come down today to discover what all the fuss is about for yourself!
Five-Star Certification in Customer Service
Richmond Chrysler has won Chrysler Canada's Highest Honour of Customer Satisfaction
Chrysler Canada's "Doctor in the House" award
We've also gained the Highest Honour for Service Technician Training
We offer service in 9 languages to serve our community better
We embrace our multicultural community and want to help everyone gain reliable transportation.
Why Choose Richmond Chrysler
One of the Safest Minivan on the Market
Keeping family vehicles safe is a top priority for Dodge when they design their Grand Caravans. The latest Grand Caravan scored a 4/5 star rating from the NHTSA (national highway traffic safety administration). Safety features available in the latest version of this minivan include: electronic stability control, multiple airbags surrounding vehicle, 4-wheel antilock disc brakes, and an enhanced accident response system.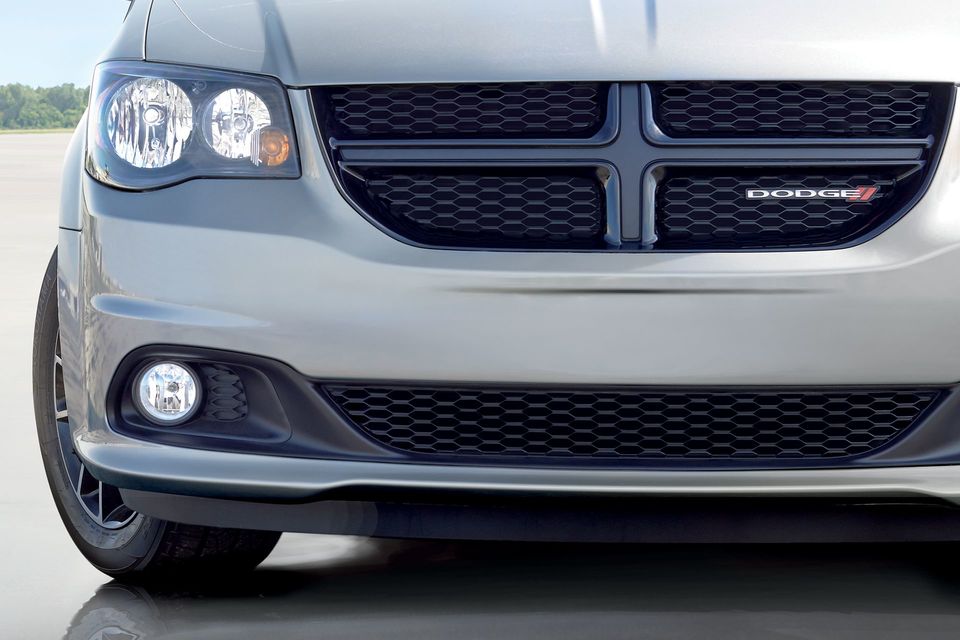 Award Winning Engine Gives Power with Efficiency
The latest Grand Caravan comes standard with the 3.6-litre Pentastar V6 engine which gives out 283 horsepower with 260 lb-ft of torque. More importantly, the same model comes available with a "fuel economizer" mode which can save you fuel by changing the transmission shift schedule – all at a push of a button.
The Grand Caravan Helps You Out with Life on The Go
One of the greatest features in the latest Grand Caravan is the Stow n Go seating option which provides plenty of hidden storage to an otherwise seven seat cabin. This is great for those sports games that require a lot of equipment to be transported or even a long road trip when summer comes around.
A Sporty Design with A Dream Interior for Those on The Go
Who says minivans can't be stylish? The latest Grand Caravan sports a sleek exterior with a cabin that feels comfortable, quiet, and clean. The latest Dodge Grand Caravan comes standard with standard top-grade clothe seating and a radio 130 multimedia centre with 4 speakers. Storage isn't an issue in the newest Dodge Grand Caravan as it comes with dual glove boxes, lower instrument panel cubby bin, and an overhead console.

What does it take to be a dealership in our modern world? Does it take having a team of professionals that really love what they do and want to ensure that each and every person that works with us is offered the care, the peace-of-mind, and the results that make a difference and put drivers into the vehicles that they deserve? Does it take knowing that you have the resourceful departments to connect individuals with the right person to handle your specific need? Does it come down to competitive pricing and facilities to keep you driving your vehicle for years to come? At Richmond Chrysler we believe, like our vehicles that it comes down to having a dealership that's the best combination of all these things. Whether you want to focus in a specific department or professional working for you, or you look at our store as a whole – there's plenty of reasons to put your trust in our team. The team at Richmond Chrysler wants you to know that there's never been a dealership quite like ours. That may seem a little bold to state outright, but with industry recognition that includes earning a Five-Star Certification from Chrysler Canada for Highest Honour for Customer Satisfaction in addition to Chrysler Canada's "Doctor in the House" award for Highest Honor for Service Technician Training, well, it's difficult not to appreciate all the effort we put into making an impression – and a great one at that!
Excellent customer service! I had to take my Jeep in for an airbag recall and a cylinder head issue awhile back. My Jeep was in the shop for awhile, but Justin Chiang was there to take good care of me. He made sure that I had a loaner car the whole time due to the complexity of the Jeep issue. Fran the receptionist was also SUPER friendly and very helpful as well. Keep up the great work guys!
Danny Hua
The staff was professional and took the time to consider what I needed. They didn't try to take advantage of me. They gave me a fair price for what I purchased. They were organized and fast which made the process quick and painless. If I was to finance or buy a car again, I would definitely used them in the future.
Joshua Jonsen
Jordan and Dominik were so helpful in finding me the exact vehicle I wanted. They spent so much time and energy helping me and were so patient with me! Thank you guys for making my first time buying from a dealership such an amazing, stress free experience! I appreciate it so much, and have recommended you to every possible person that has asked about my jeep! I highly recommend these two for all of your vehicle needs! Thank you so much!!
Mikaela Newton