2020 RAM 1500 Classic Express - Now for Sale in Richmond
If you're in the market for a brand new, highly capable truck at an affordable price, and you're happy for the tech to be a couple of years behind the latest cutting edge, then the 2020 Ram 1500 Classic Express is the pickup for you.
Why choose the Classic Express?
The Ram 1500 Classic range is an affordable way of enjoying the power and comfort of this best-selling mid-size truck. Based on the model specifications from a couple of years ago, Ram Classics offers a proven, high-quality design at a discount over the cutting-edge 1500 models. And within the range, the 2020 RAM 1500 Classic Express is for sale at one of the most attractive price points of all. What do you get for your money?
Unlike other trims in the Ram 1500 Classic range, the Express is available in one cab-format only, the Regular Cab. This two-door design is based around a single row of split-bench seating, with two passengers fitting alongside the driver.
Engine and Performance
As standard, the Classic Express powertrain is based around a 3.6L 24-valve V6 engine. This mill is capable of 305 horsepower and 269lb-ft of torque, which is more than enough for most light-to-medium tasks. However, real power fiends will head for the mighty 5.7L V8 engine which cranks out a full 395hp and 410lb-ft of torque, opening up the Express for true heavy-duty work.
Both engines are paired with a standard 8-speed automatic transmission, with a choice of either part-time or full-time all-wheel drive. However, the V8 is also available with an optimized 6-speed automatic transmission to make better use of the extra power. All versions of the Classic Express are fitted with coiled rear suspension for a smooth and assured drive.
Payload, Towing Capacity, and Cargo
The Express features a 193cm pickup bed, with a payload capacity of up to 816kg in its 1,628L of cargo space. Even more impressively, the Classic Express has a maximum towing capacity of up to 2,777kg, with the powerful engine coping easily with the load. Interestingly, the Express can tow larger loads than other, more expensive versions of the Ram 1500 Classic, thanks to its lighter Regular Cab format.
Optional cargo extras include LED bed lighting, cargo ramps, utility rails, and a cargo bed divider. However, probably the most popular and functional addition is the Rambox Cargo Management System, which provides compact but sturdy secure storage for tools and other valuables, keeping them tidily and safely out of sight.
Interior Technology
At the basic level, the interior technology is a little limited in the Ram Classic range, as you'd expect from the bare-bones appeal of the entry-level trims. However, it's still possible to build advanced tech into the model by using the available options which include an 8.4" touchscreen, Apple CarPlay, Android Auto, and more.
Latest Promotions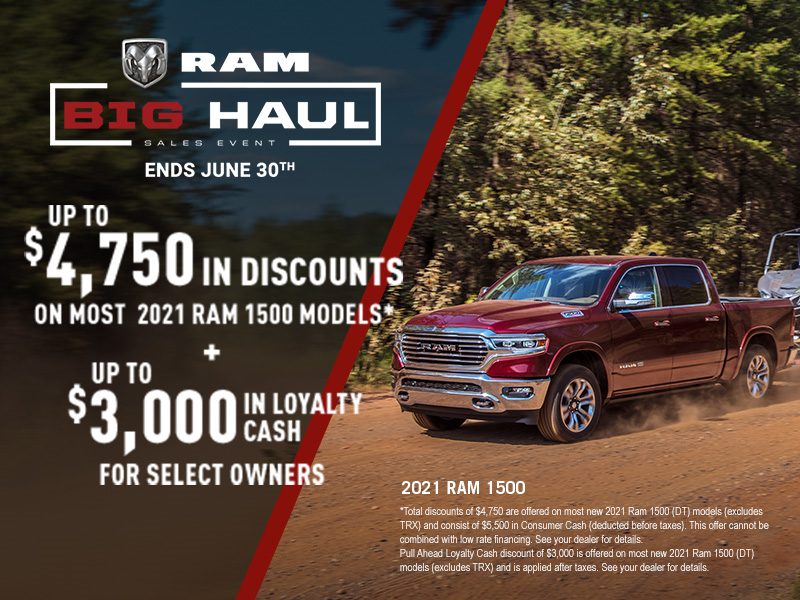 FIND YOUR RAM 1500 CLASSIC ONLINE!